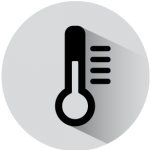 The CBM air conditioners are designed for the thermoregulation of operator cabin and electrical rooms in general.
Are suitable for installation in the most harsh environment of the industry as moving cranes, bulky material handling lines and in all application where present high vibration or
extreme temperature.
Thanks to Refrind's experience, CBM air conditioners result in reliable, sturdy, easy and reduced in maintenance products, therefore suitable for operation in particularly harsh conditions.