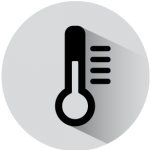 The CBR series air conditioners have been developed for the climate control of operator cabins, process control rooms and electrical rooms placed in harsh industrial installations; with dusty and aggressive atmosphere or extreme temperatures such as mobile cranes for the steel industry, mineral handling lines or any other application of such requirements.
The air conditioners are split type, made up of two units: moto-condensing unit of different sizes to which different types of evaporator units can be combined, for wall or ceiling mount, with direct or ducted air circulation.
Thanks to Refrind's experience, CBR air conditioners result in reliable, sturdy, easy and reduced in maintenance products, therefore suitable for operation in particularly harsh conditions.
MOTO-CONDENSING UNIT (CBR SERIES)