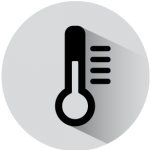 electronics and telecommunication
The construction of RAK refrigerating units is specifically made for easy installation in standard Rack 19" cabinets. Are provided of circulating pump, inertial water storage and comprehend al devices necessary to a safe and autonomous operation.
The chillers of RAK series are able to guarantee high precision control with accuracy up to +/-0,1K.
The rich basic equipment, comprehensive of double level sensor, pressure switches, multiple temperature thresholds, allow a high protection of itself and the user's application at the same time.