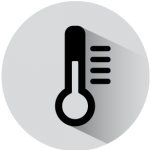 chemical and pharmaceutic
aggressive liquids cooling
The RFL chillers are refrigerating stations for water and generic fluids with inertial storage. The inertial technology is based on the accumulation of ice which allow to bear peak loads higher than the nominal capacity of the chiller itself, therefore containing power consumption and the initial investment for the unit.
Designed to ensure maximum functionality and ease of use, can be used in several application of industry. Thanks to the intermediate exchanging coil made in stainless steel, are suitable for the circulation of food or aggressive chemical fluids without any sort of contamination.
The consolidated Refrind's experience allowed to evolve in a reliable and accurate product while maintaining excellent value of money.