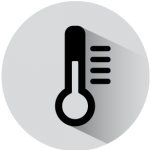 elettronica e telecomunicazioni
computer ad alta precisione
The RFW series chillers stand out by their ultra-compact dimension and versatility use.
These chillers are complete of all devices necessary to the autonomous operation and comprehend inertial storage tank an immersion type pump. Developed to ensure maximum functionality and ease of use, offer several option and accessories which allow their use in most applications of industry and not only.
The high accuracy version gives increased stability in order to fulfill the most demanding applications.
The consolidated Refrind's experience allowed to evolve in a reliable and accurate product while maintaining excellent value of money.