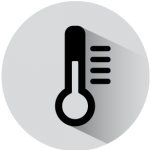 hydraulic and oleodynamic
The RFW series chillers stand out by their compact dimension, versatility use and vertical construction. Designed to ensure maximum functionality and ease of use, the RFW offers great flexibility with availability of several optional and accessories which allow them to implement most of the industrial application and not only.
Choosing for the high accuracy version, are equipped with a base rich equipment, comprehensive of double level sensor, pressure switches, multiple temperature thresholds which allow to reach high level of reliability and protection for the chiller itself and for the user's application.
Thanks to Refrind's experience, the RFW series evolved in a reliable and accurate product while maintaining excellent value of money.